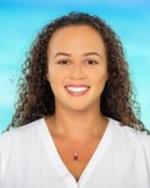 Rochelle Miller
Grand Pavilion Commercial Centre
West Bay, Gran Caiman KY1-1201
Islas Caimán
Teléfono celular: (345) 925-3332
Teléfono: (345) 949-2100

Born in Grand Cayman and raised in West Bay, Rochelle is proud to call Cayman her home. She spent a good deal of time during childhood in and out of her grandfathers cabinet shop which was also home-base for his construction company. This is what sparked her love affair with design and aesthetics but it was her attention to detail and intrigue with everything art related that lead her to pursue a career as a Graphic Designer specializing in Brand Identity. What brought her to real estate was the desire to unify her main abilities. With over 10 years experience in business ranging from marketing to commercial production her expertise, flexibility, and "can do" attitude have made her an asset to those she lends her talents to. She believes it to be a privilege getting to assist someone in purchasing a home or investment property as real estate is the largest venture most will ever make and can be a very personal one. The new CENTURY 21 corporate mission is - to defy mediocrity and deliver extraordinary results - and using her savvy skills in design, production, and marketing, she's delivering this level of service and commitment to her clients. She's both managed, assisted, staged, and built props on commercial shoots and short films for brands like: The Department of Tourism, The Alex Panton Foundation, The Globe & Mail (CAN) and HGTV (USA). As an active volunteer with November Cayman and The West Bay Seniors Fellowship Committee she's helping to strengthen our community by bringing people together while also gaining valuable experience and insight. If you're trying to find her during her spare time she'll probably be scouring the beach (or iron-shore) for sea treasures, learning new moves in the dance studio, or getting turned around down a back road scouting properties and finding hidden gems.
Espere por favor...
Ubicación:
Grand Pavilion Commercial Centre, West Bay, Gran Caiman KY1-1201, Islas Caimán
Nota: No está disponible la dirección exacta. Para obtener ayuda, contacte al agente inmobiliario de CENTURY 21, usando el formulario de contacto.
El agente inmobiliario de CENTURY 21 Rochelle Miller tiene 2 propiedades en este momento. Rochelle Miller trabaja en la inmobiliaria de CENTURY 21 de CENTURY 21 Thompson Realty Ltd. ubicada en Grand Pavilion Commercial Centre, West Bay, Gran Caiman KY1-1201, Islas Caimán. Contacte a Rochelle Miller por teléfono llamando al (345) 925-3332.